Encontrei um site que elege os 25 melhores festivais literários do Mundo. Marquei-os no mapa e na minha lista de desejos.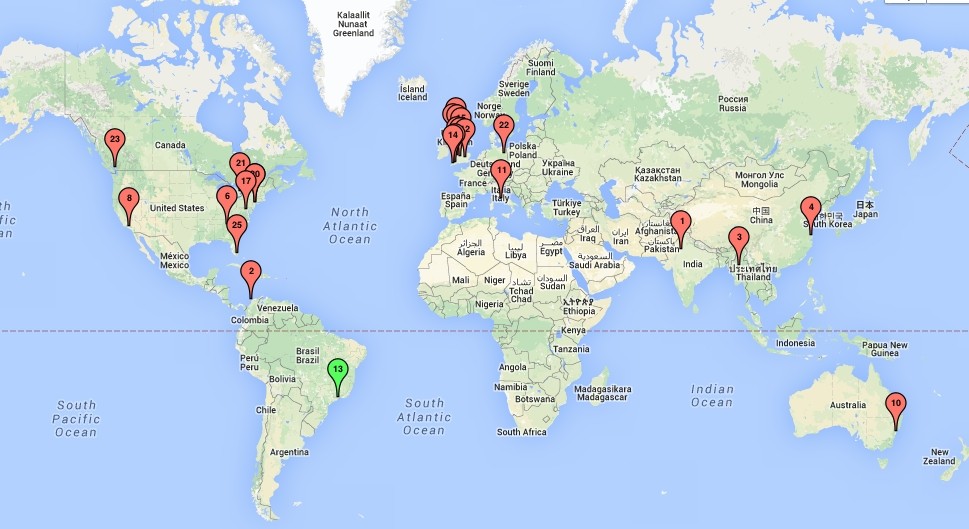 (clicando na imagem têm acesso a todos os detalhes)
1. Jaipur Literary Festival, India, January
2. Hay Festival Cartagena, Colombia, January
3. Irrawaddy Literary Festival, Burma, February
4. Shanghai Literary Festival, China, March
5. Words by the Water Festival, Cumbria, UK, March
6. Southern Literary Festival, Mississippi, USA, March
7. PEN World Voices Festival of International Literature, New York, USA, April
8. LA Times Festival of Books, Los Angeles, USA, April
9. Hay Festival of Literature and the Arts, Wales, May
10. Sydney Writers Festival, Australia, May
11. Letterature, Italy, June
12. Stoke Newington Literary Festival, UK, June
13. FLIP, Brazil, July
14. Port Eliot Festival, Cornwall, UK, July
15. Theakstons Old Peculier Crime Writing Festival, Harrogate, July
16. Edinburgh International Book Festival, Scotland, August
17. National Book Festival, Washington DC, USA, August
18. Wigtown Book Festival, Scotland, September
19. Agatha Christie Festival, Torquay, UK, September
20. Brooklyn Book Festival, USA, September
21. International Festival of Authors, Canada, October
22. International Literature Festival Berlin, Germany, October
23. Vancouver Writers Festival, Canada, October
24. Cheltenham Literature Festival, UK, October
25. Miami Book Fair, USA, November
One down, twenty-four to go!